Tru-Cut Saw's new Aggressor "Phantom™" cermet saw blades out produce competitive
blades 4:1.
Cut 126,000 sq. in. of 4320 round bar
with one blade!
BRUNSWICK, OH—A recent customer test of Tru-Cut Saw's Aggressor Phantom™ cermet-tipped saw blades in an actual production setting produced some pretty staggering results.
On a Tsune 101 sawing machine, production jumped from 25,000 – 50,000 sq. in. per blade to 100,000 – 126,000 sq. in. Blade life increased from one per shift to one blade every 13 shifts! Factor in Tru-Cut's $50 price advantage per saw blade and the results are even more impressive.
The test was run at Colfor Manufacturing in Salem, Ohio. Colfor produces transmissions shafts, transfer case shafts, hypoid drive pinions, axle shafts, transmission gears, mining bits, wheel spindles, and inner-connecting shafts, among other things. Tru-Cut Saw was so confident of the outcome in this test, they put the saw blades in there on consignment.
Running at 110 rpm on 2-5/8" dia. 4320 rolled steel with a .085 mm chip load, the Aggressor Phantom saw blade pulled 10-11 amps and produced a near mirror finish.
As the name suggests, Aggressor blades cut fast—up to 1200 SFM. They offer huge performance gains over high-speed steel and friction saws. A special C-shaped hooked chip breaker on the face of the cermet or carbide inserts allows faster chip removal and more aggressive cutting speeds.
"Our Aggressor line has been very successful and has opened new markets for us," said Richard Otter, VP of Sales.
Tru-Cut Saw is the only circular saw blade manufacturer in the U.S. with two PVD coating chambers—with a capacity to coat parts up to 1200mm in diameter. This allows Tru-Cut to tightly control coating quality and uniformity, and permits adjustments for individual customer applications.
In addition to its Aggressor line of blades, Tru-Cut offers a full range saw blades and services:
Custom and standard carbide-tipped saws up to 3 meters
Segmental saws, Friction Saws
High speed steel saws from 100 to 620mm
(M2, Premium Nitrite & M35 Cobalt)
PVD coated saws: TiN, ALTiN, TiCN, ZrN and CrN.
Solid carbide saws available from stock
Repair and regrinding services.
PVD coated drills, taps, milling cutters etc.
Companies who would like to run similar tests in their plant should call Tru-Cut Saw for service.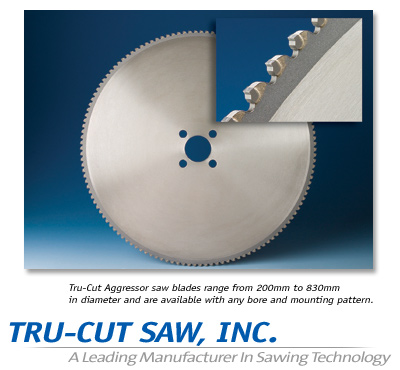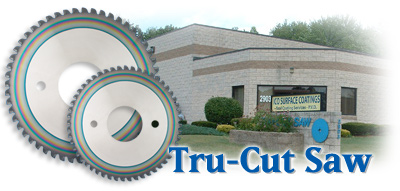 Contact Information:

Tru-Cut Saw, Inc.
2903 Interstate Parkway
Brunswick, Ohio 44212 USA
Phone: 330-225-4090
Toll Free: 800-878-8761
Fax: 330-225-4741
E-mail: trucutsaw@trucutsaw.com